Berkshire's only permanent slot car racing venue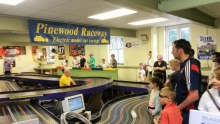 Fun for all the family
Pinewood Raceway is located within the Pinewood Activity Centre between Crowthorne and Wokingham.
The club has regular member's race meetings and caters for all ages over 6 years. Cars and controllers are provided or the real enthusiasts may bring their own cars, subject to class rules and scrutineering.
Click on any image to enlarge
We host junior and senior National and International events as well as cater for private parties and special "open days".
Technical advice is always available and we have a small shop with complete cars and spares for sale.