Events
Come and watch the experts
Being a premier slot racing venue in the UK, Pinewood Raceway hosts British, National and International rounds of prestigious class championships.
The club has regular member's race meetings on Fridays and alternate Sundays and always welcomes visitors and aficionados.
We have an annual open day during the Pinewood Festival, usually held in July. In 2015 we had over 200 visitors who all tried their hand at being the fastest on the day.
Please visit our calendar page for forthcoming events.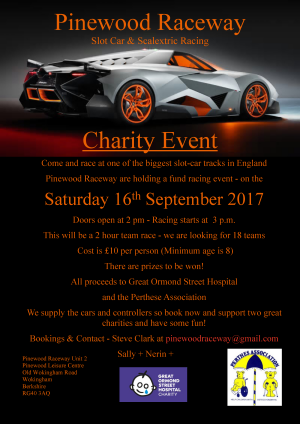 Charity event
Saturday 16th September 2017
All proceeds to Great Ormond Street Hospital and the Perthese Association Download Charity Event Poster
PRO-AM Comes to Pinewood
Final Round-Sunday 24th September 2017
Pinewood Raceway is running a 1/24th
PRO-AM 3 Hour Team Race